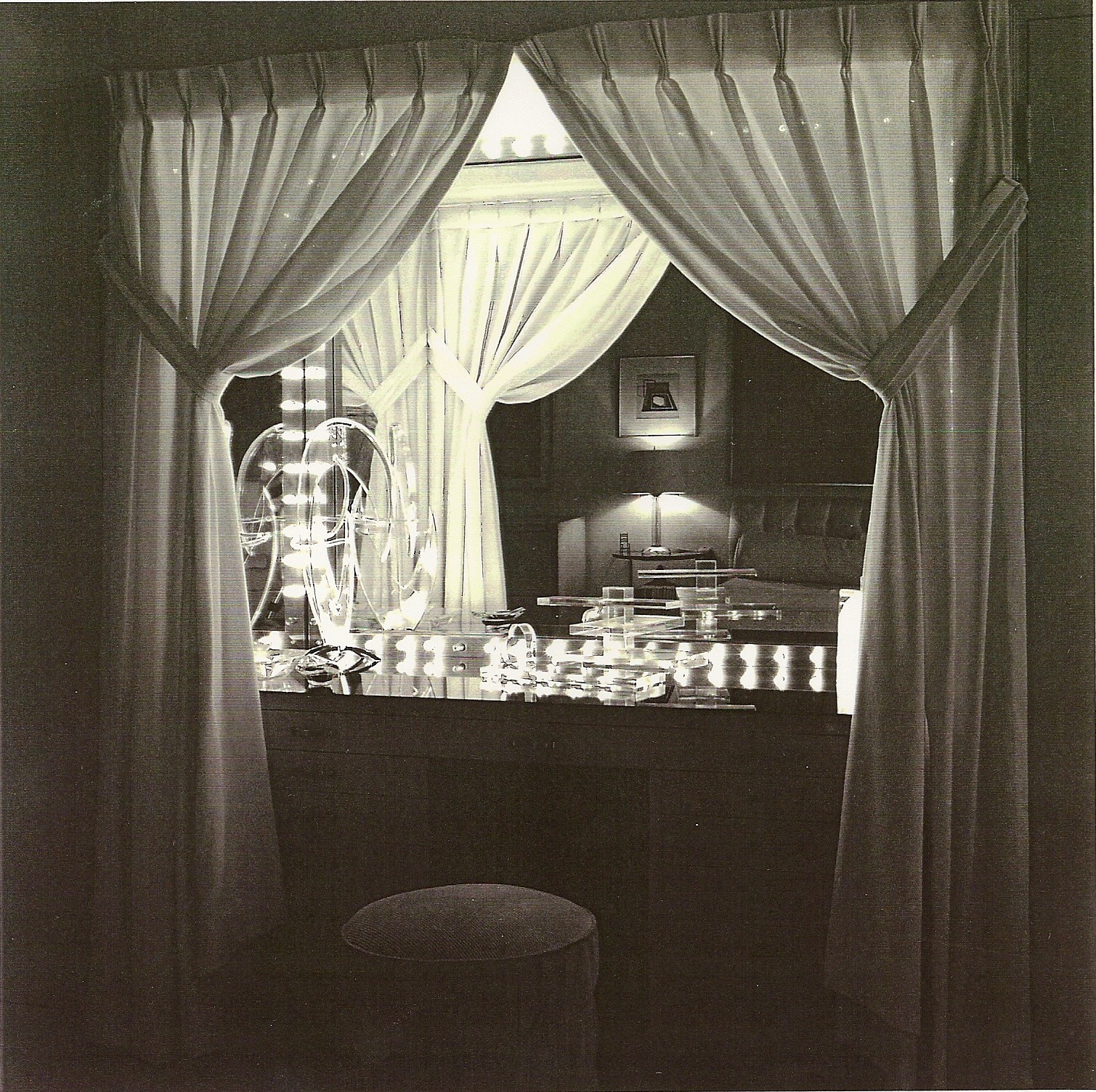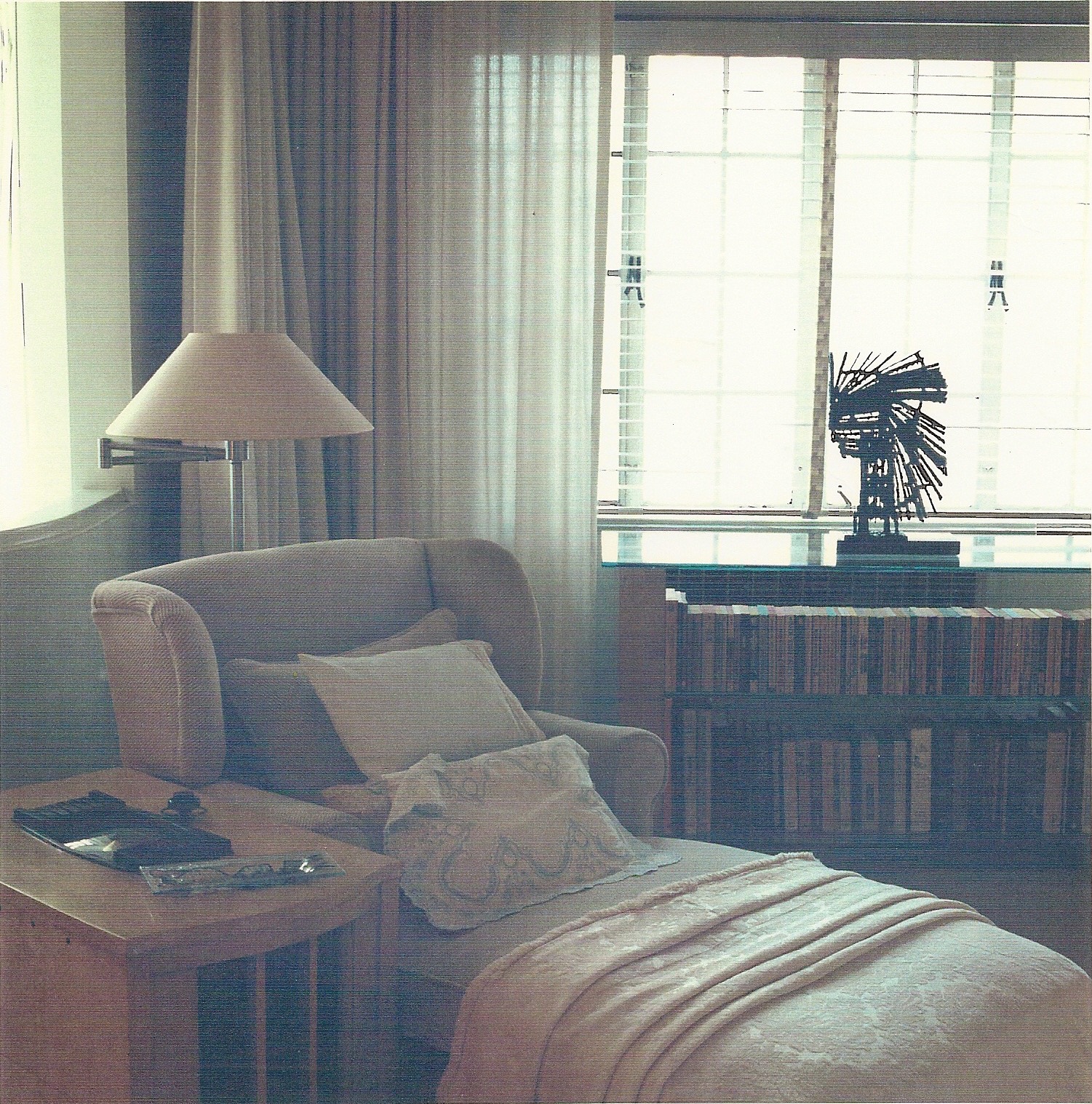 Designed in 1938 as two separate structures by its first owner, the architect Andrew Rebori, this Gold Coast landmark is commonly known as the Florsheim Mansion after Lillian Florsheim, the shoe heiress and sculptor who bought the place from Rebori in 1946.

Ten years later, Florsheim commissioned her son-in-law, the architect Bertrand Goldberg (who designed the revolutionary Marina City – the corncob-like mixed residential, commercial, nautical towers across from the Loop on the Chicago River, http://www.aviewoncities.com/Chicago/marinacity.htm), to join the two buildings at their second floors. In an architectural master-stoke, Goldberg created the famed "Galley Kitchen to link the Main House with the Coach House. The Galley Kitchen is black-laminate, fiberglass, and stainless-steel, meant to mimic the sleek lines of the era's streamlined railroad cars. The Coach House was used at Ms. Florsheim's design studio and as the site of some of Chicago's most lavish and flamboyant parties, replete with the leading artists, writers and musicians of the day.

In 1998, the Goldberg family sold the house to Robert Fitzpatrick, chosen that year to lead the Museum of Contemporary Art. Fitzpatrick recalls he had heard that a potential buyer wanted to gut the house's kitchen, so he hastily bought the place to prevent its desecration. Wanting to downsize, Fitzpatrick and his wife, Sylvie, sold the house in May 2006 to Russ Rosenzweig , one of Chicago's leading entrepreneurs.

At Present...
The Main House features a number of innovative spaces. Entering through the legendary gated archway, visitors first enter the Office, a sleek and modern space designed to be a showcase for innovative "knowledge work." It features sleek computers with multiple monitors, concert-stage lighting, and classical music and jazz continuously flowing from 5' Magnipan speakers.

Adjoining the Office is the Reception Room overlooking the garden and featuring the signature Rebori glass block wash room.

Upstairs features a large east-facing living room with giant glass and glass block windows overlooking State Street and Lake Michigan. On the third floor are two large fully furnished bedrooms with adjoining Ribori-style bathrooms.

The Galley Kitchen currently features some of Lillian Florsheim's sculptures and houses one of Chicago's largest single malt scotch collections. It has been the site of many of Chicago's leading chefs who are periodically engaged to create lavish meals for affairs at the Mansion.

The Coach House features a Great Room with soaring ceilings and a vast fireplace. It is the site of some of Chicago's most significant artistic and music events. It is also the site of Board of Directors' meetings of various Chicago-based literary, musical, and entrepreneurial organizations. The Coach House also serves as rehearsal space for various amateur and professional wind and string ensembles.

The Garden at the Florsheim Mansion is the secret jewel of the dwelling, an unusual sanctuary of meditation and contemplation, designed around the owner's belief that progress and ambition can thrive in a state of stress-free relaxation. The Garden, as well as the Coach House and Main House, possess every amenity including Wi-fi access, flat screen TVs, and music throughout.

The mansion is often featured in the Gold Coast Walking Tour (Please check here for more details) and various architectural tour in the city.
Artist Conversations
It is with a great honor that Florsheim Mansion is granted to share this full article of conversation between Lillian Florsheim (in her 80's) and Claire Wolf Krantz (in her 20's), which was firstly published in May 1983 in "New Art Examiner" - a Chicago-based art maganize where artist Claire Wolf Krantz was a regular contributor.
 
Lillian Florsheim: A Conversation with an Independent Abstractionist MAY 1983
Lillian Florsheim is the "Queen Mother!" Of Chicago geometric abstraction. For 30 years she has helped keep alive the sculptural formalist tradition of the Bauhaus in a basically surrealist town through her pioneering efforts in the use of plastic as a sculptural medium. By Claire Wolf Krantz CWK: When did you start to get involved in art? LF: When I moved into this house in 1946. My whole life style changed. I was divorced in '46 and set out on my own. I made a different life for myself. Before that I had dabbled a little in painting and then I decided that I was going to study. That summer and the next one, '46 and '47, I went to Provincetown and studied with a painter named Henry Hensche, whose God was Monet. Everything depended on light and shadow. He told me that I was handicapped in my painting by not knowing how to draw. So I went down to the Art Institute and studied with George Buehr. He taught painting and drawing. That was only once a week and that wasn't enough for me, so I went to study with Mr. Weisenborn. CWK: Who was … LF: Mr. Weisenborn was a maverick, he was doing abstract painting before abstract painting was popular. It was before the New York School. But I went up to him and said, "Mr. Weisenborn, would you teach me academic drawing," and he said, "For God's sake, why? It took me 25 years to forget it." However, he did (teach me). In his classes we drew and painted from the model. I continued doing that for quite a while until I realized that I had a better sense of form than of color. I found myself taking those drawings home and making models of them. I would come home and do them in plastic. It's a wonderful way to start because you can tear it apart and start over. When I realized that I had a better sense of form than of color, in 1951, I went to the New Bauhaus. CWK: The Institute of Design? LF: Yes, on Dearborn Street. I studied sculpture there with Hugo Weber. He was Swiss, and some of his work is now in the Kunsthalle in Zurich, I believe.CWK: How did you get started showing your work? LF: I went over to Joe Faulkner's gallery, in 1965, when he was showing a young sculptor named David Packard. I bought a piece of his and a few days later Faulkner came over to install it. By mistake he was led up to the back of the house, where I had my studio. I said, "Come right in the front; I won't put a sculpture back here." So we placed the piece and Faulkner said, "Before you pushed me out so fast, I saw something white on your walls that I like; let me go back and see it, will you?" I said, "Sure." So we went back and he saw this whole room full of things. "What are you doing with those? He asked. "Making them," I said. So he said, "Why don't you let me sell some of them for you." I said, "Really?" He took some pieces and sold them and the next year he said, "Let me give you a show." And that was my first show. CWK: You know there are stories like that, but it doesn't happen too often to people. LF: It never occurred to me to show the work; I was just making things. And that first show scared me to death. It was all arranged. The date was set, and I got real stage fright. I thought to myself, what on earth had I let myself in for? Suppose I get panned in the press? And I went into a panic. But as it happened I had been to a party and I had me Catherine DeJersey, who was an astrologist. So I made an appointment to go to see her, hoping she would be able to console me. The first thing she did was scold me for not consulting her about the dates. Then she said, "I don't know what will appear in print, but whatever happens, you will be compensated by the sales that you make in the first 24 hours of your show." That show opened at five o'clock one afternoon and the last piece was sold at five o'clock the next day. CWK: Well that certainly insured that Faulkner would continue to carry your work, right? LF: And besides that, Franz Schulze wrote a piece in his column about the new artist he had seen whose work deserved national attention. After that, I just kept working and having shows. The only time I stopped working was for seven years, in the early seventies, when all my work was returned from a show broken. CWK: How did you get started working again? LF:It was really at the urging of Sally Fairweather, where I had never shown. Faulkner at that time had given up his big gallery. CWK: When was it, that you got started again? LF: '77? I was also urged by Patricia Moore, who had a gallery in Aspen. She had been after me for several years to let her have some work for a show, and I finally did, in 1980 and again in '81. CWK: This opening was festive. LF:Yes, it was a good time. I was so excited I called everyone I knew on the West Coast; it was too late on the East Coast. I have a theory that you can't ever be really old if you can have a new experience. I've been wondering if the people (at the opening) enjoy my work as such or it it's just a surprise that it comes out of an 86-year old woman. CWK: There seems to be an enormous consistency in your work. When did you start making these plastic pieces? LF: I know exactly when. It was in 1954 when my daughter and her family were temporarily living here. We spent a lot of time visiting together and smoking too much. I was using a plastic lighter that was filled with cockleshells. One morning I said to Nancy, "Why do you suppose anybody would use this lovely material to put these ugly little things into?" And right then and there, I started to draw lighters, and then, cigarette boxes. I had them made up and then I sold them to Neiman-Marcus in Dallas, and all over New York and Chicago. I sold 1,000 lighters in all. I came home, ordered 4,000 lighters, and went away for the summer. I didn't know that you have to keep selling; I thought orders would just keep coming in. I didn't know that selling is a full-time job.CWK: Were you still making sculpture then? LF: Yes, I was making abstract shapes in plaster and wax, for bronzes. CWK: How did you go from figuration to abstraction? Was it an interest in materials? LF: It was an interest in forms. It came out of the geometric. I'm sorry I don't have anything to show you; they've all been sold. I don't keep good records; they've never been shown and I've lost track of them. They're all over. CWK: It's interesting that your art is happening in a city that doesn't have much geometric art. LF: Well, we were talking the other night about (Joshua Kind's article) "Had Biederman Stayed in Chicago" (CWK June 1981). Joshua Kind is a strong believer that had Biederman stayed in Chicago, then we would have had more geometric art. Kasimir had a gallery in the 620 North Michigan building; he carried only geometric art. He carried Biederman. But Chicago has never been a place for geometric art. I think it is generally known that the city has a lot of surrealist art, with big collectors. Beautiful collections. CWK: Are you making an equation between what's bought in the city having something to do with what's produced? LF: I hope not. CWK: What about Joshua Kind's contention that what's seen influences what's made? LF: I don't know if that's true or if it's the schools. CWK: But didn't the Institute of Design lean heavily in that direction? LF: Oh yes, but that's out of business and I don't know to what extent the Illinois Institute of Technology has followed it. I haven't followed it particularly. What was so good about the Institute of Design was that everything was an experiment. You were not there to make a masterpiece. Every few minutes they would put a new material in your hands and say, "Try it and see how it works." To play, to try almost anything. CWK: How did you make the jump to plastic, into these geometric forms? LF: I've always liked geometric forms. I'm trying to create objects that have a beauty of their own through the materials used and the shapes formed.CWK: Sp you're interested in the intrinsic beauty of the plastic? LF: Don't you find it beautiful? Any which way you cut it, you get facets, you get light. It makes prisms. Light and form make the piece.CWK: One question I had when I was looking at the work was whether you arrive at the forms and their connections in an intuitive way or a mathematical way. LF: I hope both. They start with mathematics, but I hope they're extremely visual. CWK: It seems like in your sculptures you're mediating between a kind of clarity and a kind of light and the movement. LF: Well, you can't be thinking about light while you're doing it. You have to concentrate on the forms. CWK: Would you say that you primarily work with the forms? LF: I think I start with the material. CWK: So, with the light, you know you will get some effect, but you're not positive what it will be? LF: I certainly don't know. I don't know until I see what happens. CWK: So is that part of the impetus in making your art? You want to see what happens? LF:Yes. That goes back to the Institute of Design. You know, try it and see what happens. CWK: How did you start collecting art? Who did you start buying from? LF: Gallery Chalette, at that time on Madison Avenue in New York. They carried geometric art and they had everything in it that I liked. I bought a small painting there. CWK: But you've bought a lot of other things since. Where do you see them? LF:Some of them in Europe. I saw a lot at Fairweather Hardin. There used to be a lot of geometric art at the Kasimir Gallery. Some work also shows at the Arts Club. CWK: The Arts Club has had shows of geometric things? LF: They were very avant-garde. They showed Picasso before anybody in Chicago.CWK: Whom are you looking at now? LF: Oh, I don't buy any more because I can't afford it, in spite of Mr Hanson's (Chicago Magazine) telling me how rich I am. CWK: Your heyday of collecting has slowed down? LF: It's definitely over. The cost of living is rising too high. CWK: One thing you said at your opening interested me. You said that when you looked around at Chicago art you don't feel as if you're a part of it at all, you don't feel as if you're a part of any mainstream. LF: You know the type of art that's popular today. CWK: In Chicago? LF: And, I think generally, in New York, too. CWK: But your work does have a resemblance to work that was done in New York in the sixties. LF: Twenty years ago, not now. CWK: Those artists are still working. LF: Look at Stella, he's still working. CWK: Was there any time that you felt and affinity with other artwork? LF: I like this (a Dwain Valentine circular sculpture), which is not being pursued. You can see when you look around this room that I like order. I think that it is the disorder of the work of many artists today that I dislike. CWK: Is it the ideas or the visual elements that you don't like? LF: It's the approach to it. What he's trying to do. It isn't interesting to me. It's partly the visual, too. The part of it I dislike is the disorder. CWK: You started to say that you saw yourself as a structurist. By "structurist" do you mean having an interest in the underlying structure of the forms in nature? LF: No, that's not the way I think of it. CWK: What's your definition? LF: Well, perhaps not anything more than an interest in structure, for its own sake. CWK: Without having any relationship to any underlying harmony in nature? LF: No, it can be likened to forms, very simple forms. I don't see it in a larger view. It only relates to geometry. CWK: Geometry as structure? LF: Geometry is structure. CLAIRE WOLF KRANTZ is a Chicago artist and writer and a regular contributor to the New Art Examiner.